What is the process of our Heavy Haulage service?
Without the correct equipment, moving industrial machines and heavy equipment is an arduous task. But relax, JB Rawcliffe and Sons Ltd have a fantastic reputation for heavy haulage transport and take care of everything from planning and transportation, right through to installation.
Heavy haulage is a process – relied on by many industries to get oversized products to their end destination on time – that involves many safety and logistical factors. As an experienced heavy haulage company in the UK, JB Rawcliffe provides specialist haulage equipment and trained staff – offering a service that's second to none.
How it works:
Survey
Our heavy haulage services are great for transporting, installing and handling bulky items that are difficult to move – be it generators, turbines, cooling towers or industrial machines.
When transporting abnormal loads, even the slightest miscalculation can have severe consequences, so we need to make sure that we get every aspect of heavy haulage just right. We'll work closely with you, conducting a detailed survey and inspection before preparing the transportation plan.
Planning
Planning is key to a successful move, and here at JB Rawcliffe, we plan and execute logistics in intricate detail. We assess the potential security and environmental challenges that could be faced en-route – including obstructions, such as bridges, flyovers and overhead cables – and apply for permits and arrange vehicle escorts wherever necessary.
We'll also consider the scale of the job, specific dimensions and weight of the equipment that needs transporting – ensuring our team uses the optimum heavy haulage truck for the job.
Transportation
As a heavy haulage specialist, safety is crucial for us. Our haulage trucks are only ever operated by a fully qualified driver who has a wealth of experience in the industry.
For particularly challenging routes, we can draw on our 45 years' experience and provide vehicle escorts to ensure the safe transit of your industrial equipment – making sure it arrives smoothly. We also incorporate the recommended 'rest periods' into the transportation plan to ensure maximum safety – especially for cargos being transported across the country.
By opting for JB Rawcliffe for heavy haulage in the UK, you can relax knowing that your machinery is being safely handled by highly trained personnel, using the latest equipment.
Contact us
If you'd like to take advantage of our heavy haulage services, don't hesitate to get in touch. Always on hand to help, we will be more than willing to discuss your requirements in more detail. Either call us on 01695 737 880 or send an email to enquiries@jbrawcliffe.com.
Contact Us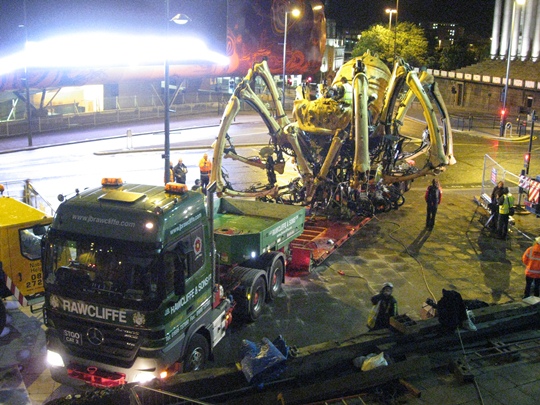 What is the Process of Abnormal Load Transport with JB Rawcliffe & Sons?
Abnormal load transport refers to haulage involving large consignments that cannot be divided between vehicles.
JB Rawcliffe and Sons are specialists in the transport of abnormal loads. In this article, we explain our process when it comes to engagements of this kind.
Step 1: Discuss Requirements
Before we begin to plan the operation, we hold a discussion with the client regarding the specifics of the consignment – including its size, shape, weight, comprising materials, its complexities, its location, its destination and any further necessary information.
It is vital that we collect as much information as possible right at the start of any assignment so we know what to expect and have the capacity to plan for various scenarios.
Step 2: Plan and Prepare for Transportation
Our team of experts will then discuss the best approach to transporting the load in question.
We will consider the timings required, decide on the best vehicle for the job, assess all risks and select the correct safety equipment to protect the consignment, our workers, the public and our vehicles.
Step 3: Conduct Route Survey
After deciding on the best approach for the transportation of abnormal loads, our next step is to check the designated route in detail.
Anything from low tunnels to narrow lanes to weight limits on bridges can cause major problems when attempting to move a consignment weighing over 44,000kg or measuring over 2.9m wide.
Step 4: Notify Relevant Authorities
Depending on the route we decide to take and the vehicle we'll be using, it may be necessary for us to seek permission from certain authorities or organisations prior to the date in question.
Those authorities may include the police, the highway authority, Network Rail or the owners of any land or structure that we may need to utilise or pass on our journey.
We'll take care of these communications ourselves to ensure that nothing is missed and to save our clients time and stress.
Step 5: Arrange Private Escorts
This step is not always necessary, but certain loads may require a little more protection or monitoring than others. If we deem this to be the case, we will arrange for the consignment to be escorted by a security team or other experienced specialists.
Throughout the planning and execution of the transportation of abnormal loads, the team at JB Rawcliffe and Sons work hard to ensure that each consignment can be delivered to its destination on time, in perfect condition and in total safety.
We can help to transport goods or equipment of any kind, on behalf of clients from any industry. Our services are most commonly used by professionals within the following fields:
Construction
Civil engineering
Oil and gas
Defence
Marine
However, we are able to work with consignments from almost any existing sector.
For further information about our methods or to talk to us about an abnormal load that you're hoping to move, simply contact our haulage team today.
Contact Us
Why use JB Rawcliffe for heavy haulage?
More than ever before, businesses are opting for heavy haulage in the UK – and it's no surprise when there are countless benefits to be had.
Here at JB Rawcliffe & Sons Ltd, we are heavy haulage specialists and guarantee to provide a solution to match your business needs. Working with our team will ensure a successful haul and provide you with the peace of mind that loads are handled in the safest way possible.
6 reasons to use JB Rawcliffe for heavy haulage:
Wealth of experience
Rather than attempting to transport goods yourself, why not leave it to our team of experts? Our fleet is driven by qualified drivers who are fully experienced with the complexities of heavy haulage. We are one of the most well-established heavy haulage companies in the UK, with more than 45 years in the industry, and a fantastic reputation for heavy haulage.
Varied heavy haulage fleet
We have a wide range of heavy haulage trucks at our disposal and can guide and advise you in making the right choice for your project. All our heavy haulage trucks are carefully configured to carry single loads, or even the most complex freights.
Using the latest technology and state of the art equipment we ensure an efficient heavy haulage service.
Adaptable for various industries
Heavy haulage transport can be tailored to match the requirements of many different industries and sectors – whether you need to transport plant machinery, aircraft parts or cumbersome loads.
To find out more about our heavy haulage transport, get in touch with us via our online enquiry form and we'll respond to you as soon as possible.
Logistics execution
Working with heavy haulage companies, like us at JB Rawcliffe, will allow you to relax in the knowledge that every aspect of the haul is taken care of. We guarantee safety every step of the way and will execute logistics to make sure that your goods are delivered on time and within budget.
Widespread locations
Based in Skelmersdale, Lancashire, JB Rawcliffe specialise in heavy haulage in the UK. From machinery relocation in Scotland to handling power stations in North Wales, no project is too big for our team of heavy haulage specialists and we have worked with various companies across the country. See for yourself in our case studies.
Availability
Here at JB Rawcliffe, we can be reached 24/7, so if you have any questions or queries about heavy haulage transport, don't hesitate to contact us – day or night.
We understand that no two projects are ever the same and will be more than happy to discuss your requirements in further detail. Call 01695 737 880 or email enquiries@jbrawcliffe.com and we'll happily assist.
Contact Us