Many Years Of Experience - Established over forty-five years ago, J.B. Rawcliffe & Sons Ltd is a leading transport company within the UK providing a professional service, covering all aspects of transport and heavy haulage services.
With more than 45 years' experience in the heavy haulage industry, you can depend on JB Rawcliffe & Sons Ltd to transport your load safely to its destination. Using our skill and expertise we deliver heavy cargo on time, every time!
Operating from our base in Skelmersdale, we guarantee a hassle-free experience for all customers – with a fantastic reputation for heavy haulage across the UK, and internationally.
As experts in heavy haulage in the UK, we are dedicated to providing a bespoke solution for awkward, cumbersome loads and carefully plan and execute logistics. So, whether you're looking to transport, install or relocate generators, turbines or industrial machinery, you can relax knowing that you're in capable hands.
Drawing on our knowledge of the UK infrastructure, we select the best route for your haulage and overcome challenges – such as access restrictions, congestion and tight deadlines – providing a flexible, economical solution for every customer. We'll also arrange movement permits for abnormal and heavy loads and provide a vehicle escort, where necessary, to ensure safe transit.
We pride ourselves on offering a first-class service, specialising in:
Whatever sector you're in, be it construction, defence or marine, we guarantee a cost-effective, reliable transportation service for all customers. We also use the most up-to-date systems for heavy haulage to maximise safety and efficiency.
Heavy Haulage Systems
Here at JB Rawcliffe, we have an extensive fleet of state-of-the-art vehicles at our disposal, ranging from HIAB cranes and hydraulic gantry lift systems to strand jack systems and self-propelled modular transporters – guaranteed to simplify the process of removal and installation.
No matter which of our heavy haulage systems you require, we assure you that they are each maintained to the highest standard and can be adapted to suit your transportation needs. What's more, we are constantly investing in the latest equipment and technology to meet the increasing demand for heavy haulage in the UK. It also allows us to keep pace with industry innovations and stringent requirements – employing the safest, most efficient practices.
For us at JB Rawcliffe, safety is paramount and we do everything we can to eliminate the risk of accidents and injuries. All our heavy haulage systems are operated in the safest way possible by our expert team who have a wealth of experience in the industry. We also make sure your cargo is delivered to the correct destination, on time and to budget.
Our heavy transport fleet has been used to complete numerous projects in the UK, and internationally as part of a joint-venture in Kenya. But don't just take our word for it. Find out more in our case studies.
If you'd like to know more about the heavy haulage services and systems we supply at JB Rawcliffe, get in touch with us on 01695 737 880 or email enquiries@jbrawcliffe.com. The team is always on hand to
Read More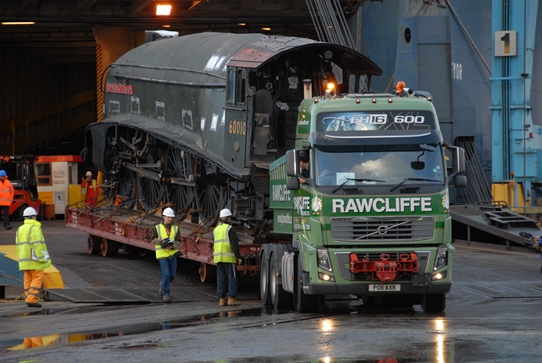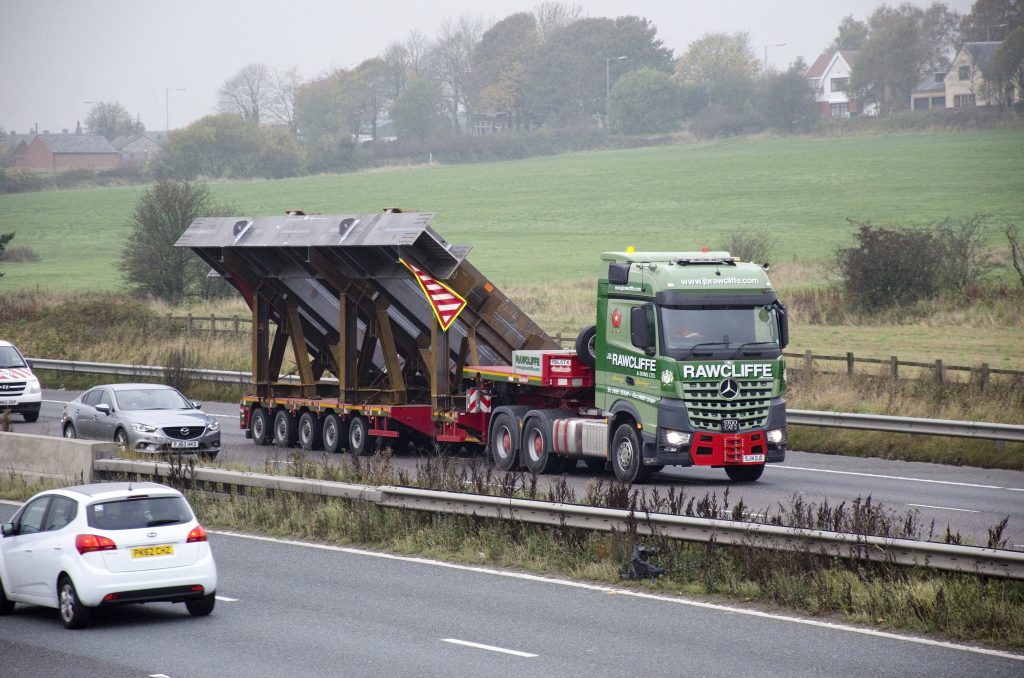 What are the benefits of Heavy Haulage?
Working with haulage specialists, like us at JB Rawcliffe, is a great idea. Haulage is one of the most cost-effective solutions for transporting large, heavy or awkward loads. All our heavy haulage trucks are operated by a qualified driver who understands the ins and outs of heavy haulage and prioritises safety.
What's more, we'll arrange every aspect of the haul making sure products are delivered safely, on time and to budget. Employing the expertise of JB Rawcliffe not only gives you peace of mind it could also save you valuable time by speeding up the process of moving.
How does JB Rawcliffe & Sons Ltd handle Heavy Haulage?
There is so much to do when it comes to heavy haulage, but the JB Rawcliffe team will take care of everything and comply with legal requirements from start to finish.
Before we do anything, we plan and analyse haulage requirements, as well as potential challenges. After this, we select the most suitable vehicle to ensure loads are transported safely. Our heavy haulage experts will then secure heavy loads to prevent them falling off in transit and make sure your goods are delivered on time.
What materials does our Heavy Haulage Service handle?
Our haulage services are ideal for transporting, installing and handling heavy items that are large, bulky or awkward to move. We use our haulage trucks to carry oversized products that are too big to fit on standard or large vehicles/transporters, typical examples include:
generators
turbines
cooling towers
industrial machines
Knowing exactly what it is you need to haul, and sharing this information with our team, will allow us to help you to maximise your value for money. To find out what else our haulage trucks can handle, call 01695 737 880 and we'll happily guide and advise you.
JB Rawcliffe & Sons Ltd Services